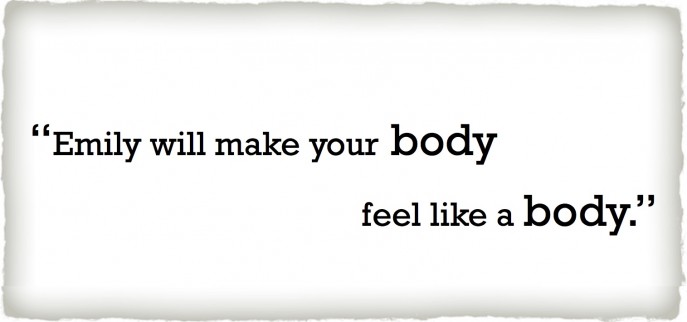 FI stands for Functional Integration.
FI  is the hands-on, one-on-one form of the method. The teacher works with the student on self-organization. It is called functional integration because it can help improve many thing you might want to be able to do better. Raise your arm higher, swim longer, breathe more fully, whatever!
My one-on-one work with Emily has been great. I feel much more open after each session and slightly taller. On her recommendation I am carrying my laptop in a backpack now and that is helping a great deal. Also, I have increased awareness of my body usage as I move through the world. I look forward to continuing my work with her. 

– Rebecca Harris, Actor

Emily is a skilled Feldenkrais practitioner. She has a deep understanding of what it is to be human and live in a body. When she works on me I know that she can FEEL (without me having to tell her) where I'm feeling injured or vulnerable. She also has the patience and curiosity to seek out what feels pleasurable and important to my nervous system. I always look forward to her working on me.

– Lauren Wolk, Independent Curator and Alternative Educator

"having her work on me feels like she's organizing my body. . .the Feldenkrais work offers the added benefit of release, comfort and ease that generally lasts much longer than the hour of time she gives me." 

– Sevrin Anne Mason, Actor

Emily will make your body feel like a body.

– Jon Stancato, Director
Contact me to schedule a lesson.
$115 per lesson
Starving Artist Rates available.